International Equestrian Tourism Centre
Excursions are guided by Piero Masi, horseman with long experiences and with a great knowledge of the area and affectionate lover of Natural Horse Riding.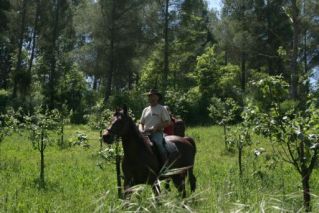 Excursions at slow walk, trot and gallop, are restricted to small groups (maximum 3 or 4 riders). The horses are well trained and willing. The excursions, customized and measured on the capacities and desires of the participants, provide fun and safety.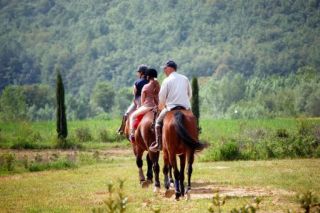 Prices: lessons and excursions : 25 euro per hours, per person. Special discounts for half-day trip/ daily trip.
You can bring your horses. They will be housed in boxes and / or large paddocks.
Riders can be housed in our Agriturismo or in two guest-rooms equipped with every comfort situated into the brick stables.
Excursions have the assistance with off-road 4x4 car. During stops in beautiful places, meals and snack are served on the table set with tasting of typical products and wonderful Tuscany wines.
The best season for riding are, of course, spring and autumn.
But also in winter, when the weather is clear, the Tuscan countryside offers wonderful views.