Trails
The most beautiful paths of Valdera
The Peccioli Commune paths, pleasant and heterogenous, go through the territory by using white roads, agricultural plans, old paveds, which are largely almost uninhabited.
The routes wind in a rivers, woods, and wide countries sequence characterized by a cipresse tree, poplar and broom varied vegetation.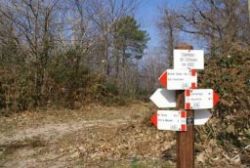 The villages of different kind, from which the paths start, give the tourist hystorical, artistical and cultural witnesses of a certain importance.
The many kinds of countryside make it possible to satisfy the fans of various sport disciplines, like mountain bike, horse and march. Even the nature lovers will find in the territory of Peccioli a relaxing environment.
Download here our brochure (jpg, 1 Mb)